1988. Ich organisiere Gigs für "Wreckless Eric.":http://de.wikipedia.org/wiki/Wreckless_Eric (Er hatte die Schnauze voll von sogenannten professionellen Booking Agents …) Wir nehmen zusammen auch ein paar meiner Songs im B-Orange Studio auf. Hat sehr viel Spaß gemacht. Ebenso wie ein Überraschungsgig mit Eric (vor Ted Cameron) in einem Düsseldorfer Venue, ich glaube der Laden nannte sich "Underground", mit Max (jetzt "Kiesgroup":http://www.kiesgroup.com) am Bass, mit mir und Bo Hatzfeld (jetzt "Hack Mack Jackson)":http://www.jacksonrock.de/de/home.cfm an den Gitarren und Catherine B. am Schlagzeug. Das war noch einmal Punkrock pur. Das Publikum halbierte sich in Sekunden. Sorry for that, Ted.
2003 hat Eric er ein Buch mit dem wunderbaren Titel "a dysfunctional success":http://www.amazon.co.uk/Dysfunctional-Success-Wreckless-Written-Author/dp/1904316182/ref=sr_11_1/202-9504272-8560646 veröffentlicht, dass er auf amazon.co.uk so anpreist:
'I didn't want to write a rock 'n' roll biography, the sort that documents the early struggle for fame, works through a successful middle period, and chronicles the downfall via a collection of lurid drug-related episodes and boring contractual details, before finally fizzling out in a collection of lame anecdotes designed to demonstrate what a great guy I am now that life's being good to me and I'm on the straight and narrow. WH Smith's is already full of crap like that.
Selten so was Ehrliches gelesen. Absolut empfehlenswert, nicht nur für Freunde des Pub & Punk-Rocks.
Hier "Eric's Website":http://www.wrecklesseric.com/
Und hier ein rarer Track. Es spielen auf:
Wreckless Eric : Acoustic guitar & backing vocals
Moody Marc : Vocals, bass
Bad Boris: Percussion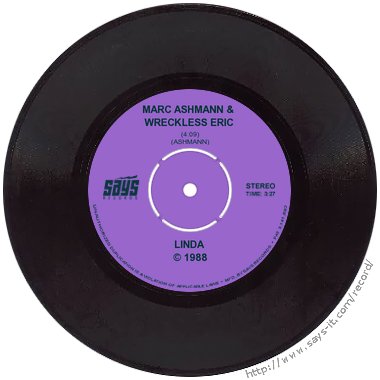 [audio:Linda.mp3]